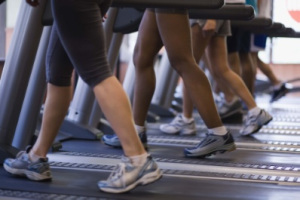 I finished taking my last Ribavirin pills on a Wednesday morning, by the next day I could feel the spring in my step starting to return. Whether this was a psychological thing or not, who knows,  but the fact was that I started to feel better almost immediately. Don't get me wrong I had never felt particularly poorly throughout hep c triple therapy treatment, I just seemed to have a little extra energy.
After just two weeks of being drug regime free I can say that I was back to my old self 100%. I can categorically state this as I record my performances at the gym where I workout. I never lost any strength during treatment but my cardio-vascular (treadmill running) performances had been way down, due to reduced haemoglobin levels I guess. However, I managed to equal my personal best performances on the treadmill just two weeks after treatment, I had a lot of aggression and frustration due to recent poor workouts to get out of my system and I enjoyed this achievement immensely!
I have suffered no after effects from treatment at all. In fact, now five months later it is all but a distant memory! I mean seriously it is just another episode in my life that happened and has now closed. I say it has now closed because recently I was away in Bangkok passing through whilst on holiday in the region. As you may recall from my earlier posts, Bangkok is the place where I both picked up the Hepatitis C virus (probably from dirty needles at a dental clinic after having numerous root canal work, read full post) and where I was diagnosed with having it too, read full post. So, it seemed appropriate that I should go and have my final PCR/viral load test whilst there. I could have waited to have it on the NHS but I wanted to find out if I was still undetectable or not.
The hospital I went to was called BNH hospital, a very high quality hotel in the region and as such it is like entering a 5 star hotel 🙂 I explained my situation to the doctors and had the test which would take 3 days to produce the results. Three days later the hospital e-mailed me the results as an attachment as agreed with the happy news that I am still HCV undetectable i.e. there is no Hep C virus in my body, or at least at such a low level as to be undetectable.
I have now tested HCV undetectable at weeks 4, 12, 22 and now 5 months post treatment. All the research (some interesting related images/diagrams/charts here) seems to suggest that I am now 'cured' of this thing! It is such as wonderful feeling and putting the effort into going through the triple therapy treatment was so worthwhile. I could have sat back and ummed and ahhed about whether or not to take the treatment or not and could still be doing that now. I am so glad that I was decisive and took action. Thanks to the wonderful services of the NHS and my own determination I now feel like a 'free' man again with no underlying health issues at the back of my mind.
I guess if I want to pass on any advice to anyone it would be to give treatment a go at least. It may not be as easy for you guys as it was for me but surely it is worth giving it a chance when the potential benefits are enormous. Of course it is only my opinion and everyone is different but I can only speak from my own experience, be positive and give it a go.
I would like to add one more thing here about recovery from hepatitis C triple therapy as regards alcohol. Alcohol is always a very touchy subject when mentioned in the same breathe as hepatitis C and I repeatedly read that you probably shouldn't drink a great deal after finishing treatment. There has been no research into whether it effects the attainment of SVR or not if you drink post treatment, however, in my case I soon sank back into my old ways with nights out with the lads drinking plenty of beer and enjoying myself. In my situation it appears to not have adversely affected the outcome at all. For others this may be different and you will have to wrestle with that decision for yourself but for me after finishing treatment, and even drinking a bit during hep c treatment (see full post regarding hep c and alcohol here) it has not effected me at all. I did start from a relatively strong position though with zero liver damage and having only had the virus less than 4 years so of course that may have helped.
So, there it is, the happy end to my hepatitis C treatment. I'm not sure what I'll do with the blog from here on. I guess I may do the occasional additional post if I feel inspired to do so and try and add some more useful information for others. I may even open it up for others to post about there experiences. I would love to make this a really positive blog of people sharing there experiences of living with/treating hepatitis C, let me know what you think…
Cheers and all the best!