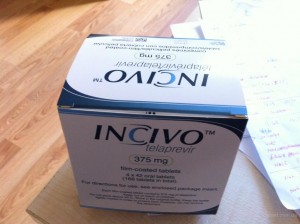 Ok, well it has been an eventful time since my last post! I am now officially on Hepatitis C triple therapy treatment and have been for 5 days now. I took my first shot of interferon last Wednesday at 5pm. 6 hours later I was in shivering and shaking like I have never shaken before in my life. I felt frozen. I lay in bed wearing 4 layers of clothing, heater on full blast and under all of my duvets and blankets. Frozen, shivering to the core!
I know that sounds awful but actually in a strange kind of way it wasn't at all. Firstly I was expecting some reaction to the interferon, secondly I knew that it would only be temporary and thirdly part of me was thinking, heck this ain't so bad, I can deal with this (touch wood). It lasted probably a couple of hours in total, I hadn't taken any paracetamol until I was shaking pretty bad. I kind of wanted to feel the full force just out of curiosity (I know morbid hey). I think after the paracetamol kicked in I pretty much fell asleep and that was that. So, overall it wasn't too bad although I'd be lieing if I said it was a walk in the park but I had no problems the next day or subsequently from the first interferon shot.
As for other side effects, I have had nothing, no fatigue, nothing really, although of course it is very early days. I have been to the gym three times like I normally do and completed fairly rigourous training sessions as normal.
Actually I tell a lie, I have been having one fairly dramatic side effect – my ass is on fire!!! I guess it is the telepravir. Imagine if you had eaten the spiciest curry you have ever eaten in your life – you know the sort – spicy on the way in – spicy on the way out… the effect is similar but more of an enduring thing. I have handled this so far with an assortment of creams and I guess this is something I'll just have to put up with. Other than that all is well with the world.
My nurse was pretty laid back about everything, I'm only the second person to have used this triple therpay in my area and so they can't offer too much info from on the ground as such, but she had a very good manner and went through all the relevant details, and of course showed me how to inject myself with the pen device – this was ridiculously easy and I hardly felt a thing!
It is a little trying having to eat the 20 grams of fat with each intake of telepravir. My times are 8am, 4pm and midnight for telepravir and 8am and 8pm for ribavirin. I am a big guy and used to eating a lot but I can see how smaller people with less of an appetite could struggle with getting that fat down them. I am eating greek yoghurts, mixed nuts and cheeses as my means of getting the fat down. I haven't missed any doses yet (don't intend too) and I'm trying to get a bit more info together as to whether combining the second ribavirn dose at 8pm with my 4pm telapravir dose, wondering if that is feasible or not as this would give me less to remember.
No problems at work either, I have a four week holiday planned starting at the end of this week which will really give me a chance to get on top of this properly and celebrate Christmas of course, minus the alcohol.
I feel lucky to have this triple therapy treatment available to me and have been very happy with how the overstretched NHS has handled me, hats off to all the wonderful doctors and nurses! thanks a bunch 🙂
Anyway, I'll be adding regular updates, so if your interested then pop back again soon, or if you have any advice for me that would be great too, thanks, and good luck to anyone else out there treading the same path!